Are you a working adult or a college student looking for a quick fix to boost your concentration? Or perhaps you just need a pick-me-up to power you through the day or hit a deadline?
If that's you, the best energy drink for focus might just be what you need. This is because it is tasty, refreshing, and is packed with caffeine for sustained high levels of concentration.
Unfortunately, most popular energy drinks are loaded with artificial sweeteners and added sugar. Others pack large amounts of caffeine that can leave you feeling agitated, jittery, or anxious.
Nevertheless, several brands make good energy drinks out there. And in this review, we will be discussing the 8 best energy drinks for focus available on the market.
But before that, let's find out how they work.
How Do Energy Drinks for Focus Work?
Energy drinks contain caffeine and other ingredients such as vitamins and minerals. The caffeine in these beverages can help improve general cognitive function, focus, memory, and energy levels.
You see, caffeine is a stimulant. So, energy drinks for focus usually work by stimulating the body's central nervous system. They also help to boost the brain's production of dopamine, a neurotransmitter that controls the ability to focus and maintain concentration.
So, when you take an energy drink with caffeine content between 95mg and 300mg, it will make you feel focused. At the same time, these beverages usually provide you with a clean burst of energy within a short amount of time.
But here is the thing;
It is worth noting that each person's body reacts differently to different energy drinks based on caffeine content. Some people can consume up to 300 mg of caffeine and not experience any side effects like jitters, headaches, or energy crashes.
On the other hand, some individuals can experience improved focus by consuming a drink with only 80mg caffeine. So, the right energy drink should be determined by an individual's metabolism and tolerance to caffeine.
Top-Rated Energy Drinks for Focus Reviewed
Below is a list of the best energy drinks that have been shown to support focus and maintain concentration. Keep reading to find out their caffeine and caloric content.
1. VPX Bang Radical Skadattle Energy Drink
Caffeine: 300 mg
Calories: 0
Our top pick is this Bang Energy Drink, which contains zero sugar and calories. This means that it is safe for anyone trying to watch out for their weight.
What's more? The drink boasts zero carbohydrates to prevent blood-sugar spikes, which is prevalent with most energy drinks. It also ensures you avoid empty calories.
But here is the best part; every 16-ounce can of this energy drink is loaded with 300 milligrams of caffeine. This is equivalent to three cups of coffee, which is safe for adult consumption.
And according to studies, the caffeine in Bang can help increase alertness, mental focus, strength, and endurance. This makes it a great energy drink for studying all night.
On the flip side, though, the increased amount of caffeine in this product may not be safe for some people. For instance, some people may experience jitters, while others may become "dependent" on caffeine.
Pros
Doesn't make you irritable or jittery
Vegan-friendly
Crash and gluten-free
Available in 21 natural flavors
Cons
Poor packaging
2. Reign Total Body Fuel Drink
Caffeine: 300 mg
Calories: 10
Looking for a fitness-focused energy drink to support your active lifestyle? This product by Reign might just be what you need.
The drink is packed with essential ingredients to power you through your workout, including CoQ10 and branched-chain amino acids. Also, included are electrolytes to help you maintain increased physical performance.
But you know what the best part is? The Reign Total Body Fuel Drink is packed with natural caffeine for increased focus, concentration, and alertness.
Similar to the Bang drink, this too contains 300mg of caffeine to fuel your day. While this amount is generally safe, it may lead to some people experiencing headache, fast heartbeat, insomnia, or anxiety.
Additionally, it's worth mentioning that this beverage does contain 10 calories. So, if you're looking for a calorie-free energy drink, the Bang drink might be your best bet.
Pros
Gluten-free and zero sugar
Comes in many flavors
Provides zero artificial flavors and colors
No aftertaste
Cons
It's way too carbonated
Not calorie-free
3. CELSIUS Sparkling Orange Drink
Caffeine: 200 mg
Calories: 10
Do you need an extra boost at the gym? Or perhaps a pick-me-up to help you through your workday? If yes, this formula by Celsius can help you stay focused on your goals.
It's a uniquely blended drink made with green tea extract, guarana seed extract, ginger root, and other essential vitamins. However, what makes it an excellent beverage for focus is that each can is loaded with 200 mg caffeine.
So, if you often experience jitters, addiction, fatigue, or digestive issues from taking too much caffeine, this drink is for you. Besides, it does not contain sugars, artificial flavors, colors, or preservatives.
On the downside, each can is packed with 10 calories and 2g carbohydrates. Therefore, if you need a calorie-free drink, this product is not for you. Besides, the carbs may lead to a spike in blood sugar levels.
The good news? If you're going to be using this product as a pre-workout drink, then you don't have to worry about the calories.
Pros
Non-GMO and Kosher-compliant
Gluten-free and vegan-friendly
Low in sodium and fructose corn syrup
No energy crashes
Cons
Some people find this flavor flat-tasting
4. Monster Energy Ultra Energy Drink
Caffeine: 140 mg
Calories: 10
Monster Energy Ultra Energy Drink is a great option when you want increased focus without consuming too much caffeine. Even different users on Reddit seem to agree with this.
This is because each can is packed with 140 mg of caffeine, and this is equivalent to less than two cups of coffee. As such, pregnant women and people with high blood pressure can safely consume this drink.
However, for individuals who are caffeine-tolerant, they may find the 140 mg too little. Therefore, this may force them to take at least two cans per day, which can be pretty expensive.
Also, worth mentioning is that the beverage contains 10 calories per serving. Although not too much, it may not be ideal for anyone looking for a calorie-free drink.
But here is the best part; similar to other drinks in this review, this too is sugar-free. More so, it comes in multiple flavors to choose from.
Pros
Lighter tasting and a little less sweet
Low in calories
Relatively cheap for a pack of 24
Does not cause jitters or irritability
Cons
Poor packaging when shipping
So many counterfeits available
5. Zevia Zero Calorie Energy Drink
Caffeine: 120 mg
Calories: 0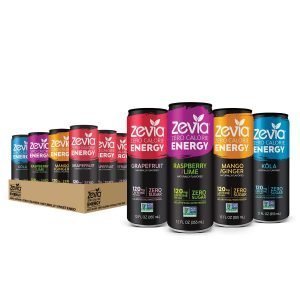 Here is yet another excellent energy drink for focus that promises to provide you with clean energy without added sugar. The product is sweetened with stevia leaf, which has zero calories and no impact on blood sugar levels.
But you know what the best part is? This product is made with only natural, plant-based ingredients. This means there is nothing artificial or any bad stuff in the beverage. You will be even happy to know that the drink is gluten-free and non-GMO verified.
Additionally, you will be happy to know that each can contains 120 mg of caffeine per serving. This is because, according to studies, 100 to 200 mg of caffeine is enough to boost your alertness.
Also, this amount of caffeine is sufficient to get you through your most sluggish days. The best part? Since it is within the recommended daily caffeine intake, you don't need to worry about side effects like jitters, anxiety, or headache.
However, some people may find the caffeine in this beverage too little to their liking. This means that you will need to take at least two cans to get that little extra boost.
Pros
Made from clean ingredients
Sodium and soy-free
Comes in 4 assorted flavors to choose from
Does not raise blood sugar
Cons
Most reviewers did not like its flavor
6. V8 + Energy
Caffeine: 80 mg
Calories: 50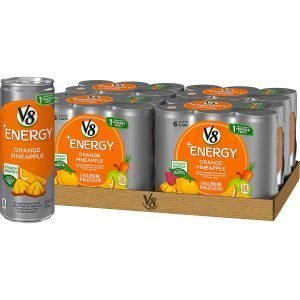 V8 + Energy is yet another potent energy drink blended from fruits, vegetables, and tea for a restorative boost. Each can contain one combined serving of apples, oranges, sweet potatoes, pineapples, and carrots for a satisfying taste.
More so, the drink is formulated with caffeine that is naturally occurring in black and green tea. Each 6.8 fluid ounce can provide you with 80 mg of caffeine. This is just slightly less than what is in an average cup of coffee.
Therefore, if you're used to consuming 2 to 3 cups of coffee per day, this product might be expensive for you. All the same, it does provide you with steady and clean energy to run you throughout the day.
So, if you are looking for a perfect morning start or late-night boost, this product is worth giving a shot. Besides, it does not contain any added sugar, artificial colors, or flavors.
Worth mentioning is that a full can of V8 + Energy contains 50 calories per serving. While not very significant, it can be an issue for individuals looking for a calorie-free drink. Besides, it does have carbs, which could cause a spike in blood sugar.
Pros
Non-GMO and gluten-free
Made without added sugar or artificial colors
Excellent source of B vitamins
Clean energy without withdrawal symptoms
Cons
It's not carbonated
Contains small amounts of sucralose, an artificial sweetener
7. Red Bull Energy Drink
Caffeine: 75 to 80mg
Calories: 5
If you're not new to energy drinks, you must have heard of the beverage that "gives you wings". This wildly popular beverage is considered by many to be practically the grand-daddy of all energy drinks.
But what makes it an excellent energy drink for focus and the brain? It is probably because it comprises high-quality ingredients like B vitamins, caffeine, Aspartame, taurine, alpine water, and acesulfame. The best part is that it has no added sugar.
What's more? Each 8.4 fluid ounce can is packed with only 80 mg caffeine. Unfortunately, this caffeine content is slightly less compared to what you get from one cup of coffee. This means that you might not get that extra boost by just consuming one can.
Additionally, you will be disappointed to know that this drink does contain 5 calories and 3 g carbs per serving. While not a lot, it may be significant for anyone looking for a calorie-free beverage.
Overall, despite Red Bull surprisingly being a highly-popular energy drink brand, it fails to impress. This is also considering how pricey it is compared to other brands.
Pros
Enhanced energy production at the cellular level
Made of high-quality ingredients
No added sugar or artificial flavors
Available in three types of packs to choose from
Cons
Relatively pricey
Low caffeine content per serving
8. Starbucks Tripleshot Energy Caffe Mocha
Caffeine: 225 mg
Calories: 210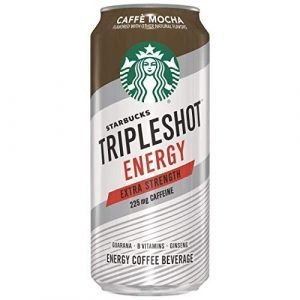 If you need an energy drink that provides you with extra strength, you might want to give this beverage by Starbucks a try.
As it turns out, each 15.0 fluid ounce can contain 225 mg of caffeine per serving. This is equivalent to around two cups of coffee.
This means that a single can of the Starbucks Trippleshot drink is enough to provide you with long-lasting energy and focus. Of course, without any jitters or crash.
The best part is that this product is designed to provide you with a well-rounded blend of vitamins and minerals. These are provided with the hopes of boosting energy production. Therefore, it will almost be like taking a daily multivitamin.
Available in mocha flavor, this drink is blended with a touch of delicious and smooth cream for a refreshing taste. You can also get it in other flavors such as vanilla, caramel, or dark roast.
However, one major drawback of this product is its high caloric content. As it turns out, the drink is packed with 210 calories from sugar and carbs. Good news only if you'll be doing a 50-mile bike ride. But if you'll be sitting at your desk all day, it's bad news.
Pros
Great caffeine content for powering through
Solid packaging
The caramel flavor is delicious
Offers long-lasting energy
Cons
High caloric content
Some find it to be too thick
Related
Performance Lab Energy Review – Yay or Nay? [2021]
Top 3 Best Adrenal Support Supplements Reviewed
Shroom Tech Sport By Onnit Review: Energy & Endurance?
Final Thoughts
The best energy drink for focus can be an easy substitute for the morning, midday, or afternoon coffee pick-me-up. However, the beverages do have varying ingredients and caffeine content.
Some products, on the other hand, are calorie-free while others are not. So, make sure to choose the right one to fit your needs.