Ever wondered what prebiotics are? Or how they compare with probiotics? And what are some of the best prebiotics on the markets currently? Stick around as we break everything down for you.
Prebiotics vs Probiotics
Prebiotics are a special group of fibers that are not digested within the human digestive system. So, when you take them, they end up in your gut intact and ready to work.
Due to the fact that they are not broken down in the digestive system, they do a pretty good job of developing the good bacteria in your gut.
Their ability to selectively feed the good bacteria and starve the bad ones makes them a really good tool for improving your overall health. Indeed, a well-balanced microbiome is important for your overall health in the following ways.
Enhancing magnesium and calcium absorption
Increasing the quality of bones i.e. bone density
Strengthening the immunity
Improving appetite control and overall weight management
Probiotics, on the other hand, are exogenous strains of bacteria that provide you with a fresh supply of bacteria hoping to improve the composition of the gut.
When you take a probiotic supplement, you do so hoping that it will somehow end up in your gut without being broken down by your digestive system.
However, the acidic environment of the gastrointestinal tract means that very few probiotic bacteria strains make it to the gut intact.
This partly explains why more and more people are preferring to take prebiotics over probiotics. Not only do they have fewer side effects but they also deliver more bang for the bucks.
Best Prebiotic Supplements
With dozens of prebiotic brands being introduced to the markets almost on a daily basis, zeroing in on the best choices might prove quite challenging. What's more, once you manage to find a good product, you're bound to realize that it's grossly over-priced.
That's why today we'd like to eliminate the confusion by talking about some of the most effective and top value prebiotics out there currently.
The following is a list of the best prebiotics that you can find on sale on leading platforms. Read the reviews to see which one is the ideal choice for your needs.
1. Best Ranked – Performance Lab Prebiotic by Opti-Nutra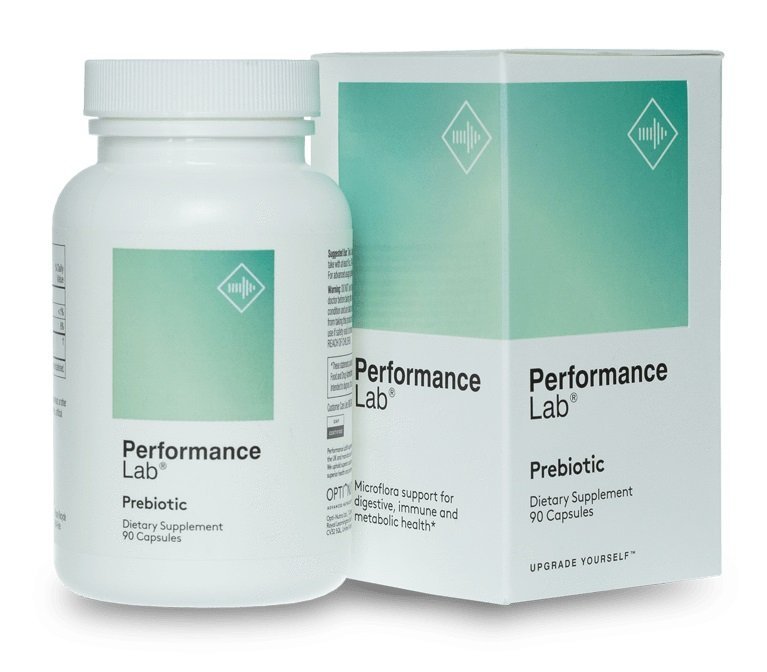 For those who are very serious about taking the most potent prebiotic, Performance Lab is probably the best supplement available.
Unlike other brands that are overloaded with generic ingredients which might even lead to bloating, this prebiotic has nothing but clean ingredients.
What's more, it is free from gluten, caffeine, soy, allergen, non-GMO, and synthetic additives.
So, what makes it very potent, you ask? Well, the supplement delivers 2g of inulin-FOS, one of the most effective soluble prebiotic fiber.
This ingredient is resilient so it's able to pass through the gut tract without being broken down.
As such, it usually arrives in the colon intact where it selectively feed Bifidobacterium strains thereby stimulating their growth.
But perhaps the best thing about this dietary supplement is the price. It costs 50% cheaper than its main competitor meaning it also provides you with good value for money.
Additionally, Performance Lab prebiotic is delivered in 100% natural prebiotic-infused NutriCaps capsules made from fermented tapioca. The pills are also tiny and easy to swallow.
Pros
Made from clean, plant-based, and premium-grade ingredients
GMP certified and vegan-friendly
Tested for banned substances
Supports digestive health, weight control, and heart health
Offers good value for money
Cons
People on a low fiber diet may experience mild constipation in the first week
2. PrebioThrive by Dr. Gundry
Coming in at number two is PrebioThrive by Dr. Gundry. This is a relatively inferior and overpriced supplement compared to Performance Lab Prebiotic because it contains five generic ingredients.
Other than that, it even contains milk that some people are allergic to.
Nevertheless, this product is worth considering as it's formulated using all-natural and some of the most effective prebiotic ingredients available.
As far as its ingredients are concerned, they include Acacia gum, flaxseed, guar gum, agave inulin, and galactooligosaccharides.
But here is the thing; the manufacturer does not disclose how much of each ingredient is found per serving.
Therefore, it's difficult to tell if there is too much or too little of each compound.
What's more? Some of the ingredients like acacia gum are questionable because they don't selectively feed 'friendly' gut bacteria.
Moving on swiftly, this powder-based dietary supplement is made in the USA and in a GMP compliant facility.
To top it all up, it is manufactured without artificial sweetener, soy, lectin, and sugar. So, we think that it's of relatively good quality.
Pros
Comes in a BPA-free plastic bottle
Made from a blend of organic fiber
Does not contain cheap fillers
May help minimize bowel and stomach discomfort
Contains GOS which has been shown to support the growth of Bifidobacterium
Cons
Very pricey
Might contain higher levels of inulin
Ingredients are in proprietary blends
3. Hyperbiotics Prebiotic

Similar to PrebioThrive by Dr. Gundry, this product is also available in powder form. It combines three organic prebiotic plant-based ingredients including acacia fiber, Jerusalem artichoke fiber, and green banana flour.
According to the manufacturer, each ingredient has been clinically studied to maintain your gut barrier by stimulating the growth of beneficial bacteria.
For instance, acacia fiber has been shown to slow fermentation. Unfortunately, the ingredients are in proprietary blends so it's hard to know the exact quantities that have been used.
More so, the formula delivers 7 grams of prebiotic fiber per serving. While this is massive compared to what you get from Performance Lab Prebiotic, there is a catch.
You see, this prebiotic by OptiNutra is selective when it comes to which bacteria it feeds, unlike Hyperbiotics Prebiotic.
But even so, Hyperbiotics Prebiotic is a great gut health dietary supplement.
After all, it is free from dairy, wheat, gluten, soy, eggs, nuts, and shellfish. Not to mention, the powder is packaged in a GMP certified facility.
Pros
Contains a mix of soluble dietary fiber, inulin, resistant starch, and FOS
No artificial colors, flavors, or preservatives
Made with sensitive stomachs in mind
100% food-based and organic
Supports nearly every aspect of your health
Cons
Ingredients are in proprietary blends
May temporarily cause mild stomach discomfort and bloating
4. Dr. Tobias Prebiotic
Here is yet another great prebiotic that is made from some of the finest ingredients. However, this supplement takes a totally different approach from other products on the market.
It uses a patented formulation that is proven to support a healthy gut, healthy immune system, and digestive system.
What's more? Unlike most prebiotic brands that prefer to use plant-based fibers, Dr. Tobias' formula is not fiber-based.
Instead, each capsule is filled with prebiotics which supports your floral balance. Therefore, you don't have to worry about gas and bloating that results from a high-fiber formula.
Unfortunately, just like most supplements, the manufacturer does not state the exact quantity of each ingredient.
Besides, it does contain filler ingredients including rice dextrin and medium-chain triglycerides. So, it's really not a clean product.
That said, the manufacturer seems to take quality very seriously.
As such, the supplement is manufactured in a third-party tested facility to ensure its safety, purity, label accuracy, and effectiveness.
Pros
Made from non-GMO and with natural ingredients
Easy on the stomach
Extensive product analysis and testing
Manufactured in an FDA and GMP registered facility
Feeds beneficial bacteria
Cons
Has fillers
Includes a proprietary blend of ingredients
5. BioSchwartz Prebiotics
BioSchwartz makes a comprehensive and advanced prebiotic with clinically proven results.
The supplement is proudly made in the USA and has been tested for heavy metals to ensure product safety.
Also, this formula is third-party tested in independent labs for potency, quality, and purity.
So, overall, we can say that this company does take safety and quality of their products seriously.
Besides, the prebiotic is free of common allergens like tree nuts, soy, gluten, sugar, peanuts, wheat, artificial colorant, and preservatives.
Looking at its supplement facts, this product has a blend of PreforPro fibers that include four ingredients. It also contains ingredients like 5mg vitamin C, 1g Xylooligosaccharides, and 150mg Oryza sativa.
According, to the manufacturer, these compounds work better than other digestive enzymes and inulin powder.
However, one thing that makes this product slightly less attractive is the fact that the plant extracts are hidden in a proprietary blend. What's more, it is overloaded with some generic ingredients which may lead to bloating.
Pros
Made in an FDA and cGMP certified facility
No refrigeration needed
Backed by a 100% satisfaction guarantee
Vegan-friendly
Rigorously tested for safety
Cons
Most ingredients are in proprietary blends
Oryza sativa may cause intestinal gas during the first few weeks
6. Swanson 750 Milligrams Prebiotic
Looking for an inexpensive prebiotic? Well, you might want to try out this particular product from Swanson.
The supplement contains 750mg of NutraFlora which supplies around 95% short-chain fructooligosaccharide (FOS) thereby supporting healthy digestive microflora.
And as you might know, FOS cannot be digested by the body. This means it's able to pass through the stomach into the intestines to feed beneficial bacteria.
Unfortunately, it lacks inulin which makes it less potent compared to products like Performance Lab prebiotic.
As if that's not enough, it also contains filler ingredients like silica, microcrystalline cellulose, and calcium laurate.
This probably explains why this product is relatively cheaper compared to premium ones.
However, like most supplement brands, Swanson is also committed to quality. Their products are rigorously tested for potency and purity in third-party labs.
On top of that, they claim to follow Good Manufacturing Practices.
Pros
Vegetarian-friendly capsules
Tested for heavy metals, identity, purity, and potency
Nourishes probiotic organisms
Relatively cheap
Contains only a single active ingredient
Cons
Not a completely clean product as it has filler ingredients
7. Vitamin Bounty Prebiotic Supplement
Made in the USA, Vitamin Bounty's prebiotic combines a potent blend of nutrients to promote your gut flora. It does this by simply providing nutritional fibers which makes it a nice addition to any probiotic regimen.
But here is the thing; similar to Dr. Tobias Prebiotic and BioSchwartz Prebiotics, it utilizes the same ingredients that kill of 'bad' bacteria. Each serving contains 15mg PreforPro.
Basically, PreforPro is a blend of bacteriophage ingredients that specifically target good bacteria by providing them with food to feed on.
However, because the ingredients are in a proprietary blend, we can't tell the quantity of each one of them.
What's more? The manufacturer also included a couple of filler ingredients which we think don't add much value to the product.
They include silicon dioxide, magnesium stearate, tapioca maltodextrin, and MCT powder.
Pros
Gluten-free and vegan-friendly capsules
Very easy on the stomach
It's not fiber or starch-based like most formulas
Works in all regions of the gut
Easy-to-swallow delayed-release capsules
Cons
The manufacturer does not disclose the quantity of each ingredient
Quite pricey
8. NOW Foods Inulin Prebiotic
NOW Foods is a well-known leader in the natural supplements industry. Most of their products are in capsules but their prebiotic comes in powder form. And the best part is that it is vegan/vegetarian-friendly.
The supplement is made using organic inulin (FOS) from Blue Agave, a soluble prebiotic fiber that is highly resistant to digestion. This means it can reach the intestine intact.
And each serving contains 2.8g of inulin. However, the inulin is a generic form of ingredient compared to that of Performance Lab Prebiotic that is patented form.
But here is the best part; the product is manufactured in a GMP certified and NPA A-rated facilities. As such, every manufacturing process has been fully examined to ensure product potency and stability.
What's more? The supplement is made without wheat, yeast, gluten, egg, shellfish, milk, soy, and tree nut ingredients. So, as far as its quality is concerned, this product seems to have clean ingredients.
Pros
It is non-GMO verified and USDA certified organic
Pure powder with no filler ingredients
Keto and vegan-friendly
Has a very low glycemic index so it won't negatively affect serum glucose levels
Made with quality in mind
Cons
Does not dissolve well
Not for people who love the convenience of taking capsules
How We Rated the Best Prebiotics
For this particular article, we followed a special approach that involved cross-examining the ingredients used, potency, and purity. That way, we were able to eliminate most of the overrated products that are made up of nothing else other than cheap fillers.
When it comes to ranking the leading brands, we expect nothing short of top quality stuff. For a product to make it to this list, it had to contain prebiotics that have undergone clinical trials. As usual, we tapped into peer-reviewed scientific journals for those details.
We also paid close attention to the quantities of ingredients used. That's because some products contain the right ingredients but in small quantities. Our reviewers, therefore, examined each product by determining whether or not it met the recommended daily dosages.
Finally, we factored in different user reviews. And with all that data, we were able to rate the 5 prebiotic supplements ranked above. Above all, we were able to underscore their strengths and flaws as well.
List of Food Items Rich in Prebiotics
The good news is that you don't have to spend a lot in the name of delivering the right fiber to your gut! Mother Nature has provided us with high-quality foods that can do an immaculate job of feeding the beneficial bacteria in the gut.
The only issue with trying to meet your fiber intake requirement by food alone is that you'd need to eat quite a lot!
Just for example – can you imagine having to add 3 bananas to your usual oatmeal? That would be a bit too much, right?
And of course, there's another issue of availability. You'd need to go to the grocery to find food items that are probably not a part of your usual diet.
That said, as we had said earlier, Mother Nature has really been kind in providing us with fantastic food sources of this fiber.
The following is the list of the best food items that are rich in prebiotic fiber (examples):
Bananas
Green asparagus
Chicory
Leafy vegetables
Onions
Oat
Apples
Jerusalem artichoke
Barley
Cocoa bean
Jicama
Leek
Sweet potatoes
The food list goes on and on but the few alternatives mentioned above are among the most commonly available here in the US-groceries.
Eating those foods regularly can help change your gut bacterial balance for the better. Of course, there are some rich foods that you might not be able to eat regularly yet they're quite rich in prebiotic fiber. Examples are the chicory root, Dandelion greens, Yacon root.
To this end, we're of the opinion that the best approach is one that involves taking supplements along with some of the healthy food items discussed above.
Prebiotics Weight Loss: What's the Consensus?
You probably are wondering whether there's any evidence pointing to the possibility of these supplements aiding in weight loss.
Well, prebiotics are quite powerful and even more effective than probiotics especially when it comes to the burning of abdominal fat.
One thing you need to know about prebiotic fiber is that it can help improve absorption in the intestines. This ensures that your body prioritizes the absorption of important nutrients.
According to a researcher from the University of Manitoba, Peter Jones, the normal digestive process involves absorbing all the calories.
The researcher further says "We are of the opinion that prebiotic fiber may interfere with the absorption of those calories so that fewer calories were used to increase abdominal fat and more went out the tailpipe."
Even Dr. Oz himself acknowledges that prebiotics are quite important in the weight loss process.
Plus we even came across this important discussion on the role of good gut health from Mayo Clinic explaining why prebiotics are quite important to the weight loss process.
And of course, prebiotics are rich in fiber meaning that they can make you feel fuller than you actually are. That alone can help in appetite suppression.
Taking Prebiotics and Probiotics Together
Microbiome therapy is the name given to the habit of taking prebiotics alongside probiotics. Generally, you don't have to take these two together to get the best results.
If anything, taking a combination of these two increases the likelihood of having an overloaded microbiome which can potentially lead to bloating.
We'd suggest finding a really well-made prebiotic or probiotic supplement and letting it do the job for you. Of course, a prebiotic supplement would be much better since it delivers food directly to your gut (unlike prebiotics most of which get destroyed by the acid in the stomach).
Final Thoughts
As we sum up this write-up, we'd like to provide you with a list of the best prebiotics in 2020. It's just a recap:
Performance Lab
PrebioThrive by Dr. Gundry
Hyperbiotics
Dr. Tobias Prebiotic
BioSchwartz
Swanson 750mg
Vitamin Bounty
Now Foods Inulin
If we were to choose the best overall choice from those 8, we'd go with the Performance Lab Prebiotic from Opti-Nutra ==>here<==. That's because it's made from premium Inulin-FOS which is quite effective and quality-tested.
The Inulin found in this supplement is sourced from the Chicory root. Plus, it has its potency further enhanced through hot water processing. That way, it delivers much more efficacy.
And of course, this product costs way cheaper than other premium blends that often seen as its closest competitors.