When you stare at yourself in the mirror each morning all you want to see is a perfect image of yourself.
But what if you start spotting sections near your hairline that have a noticeably thin crop of hair?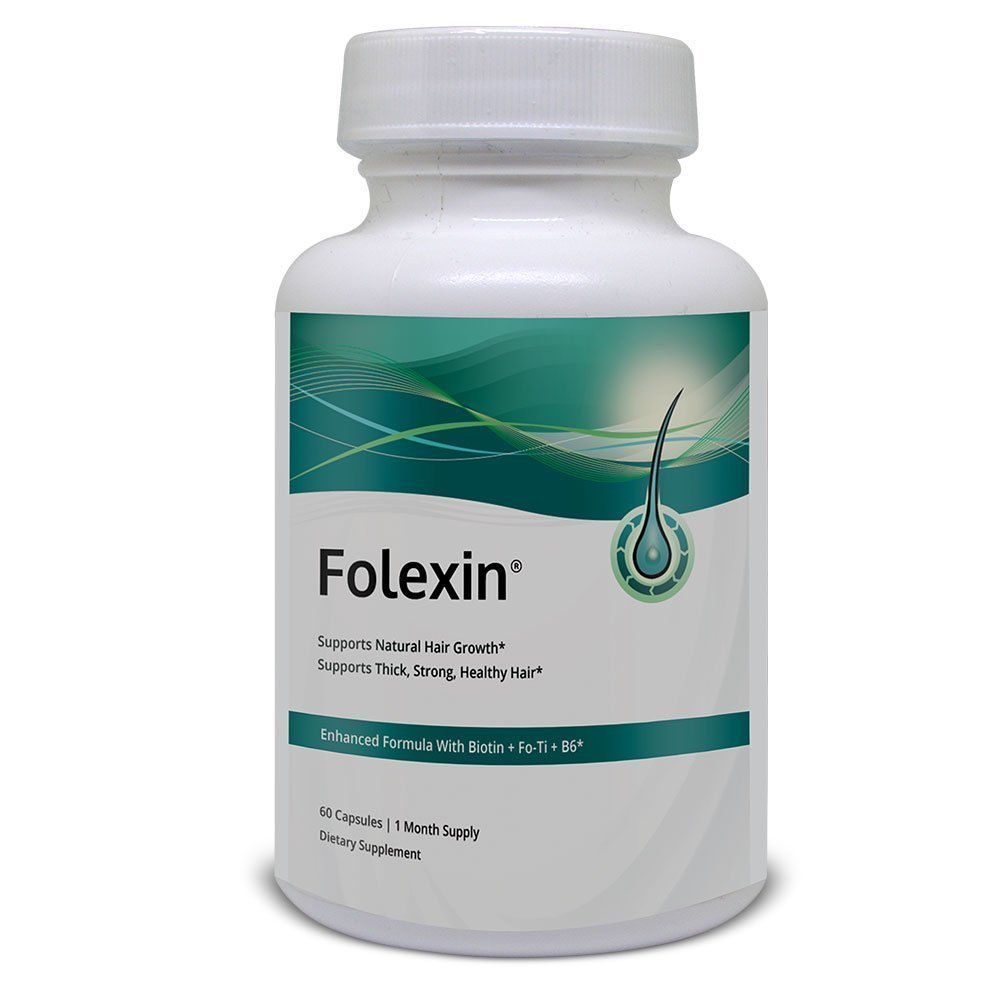 This can easily leave you in panic especially if you really value your personal image.
Fortunately, there are ways in which you can nip this problem in the bud. And one of the suggested methods involves the use of Folexin.
This is a Made in USA product from a company known as Vitabalance.
And as is the norm with health supplements, this one has attracted both love and hate so far, if the posts done about it so far are to go by.
But what really is the truth about this hair regrowth formula? Are its results worth writing home about?
Well, we have compiled the following responses to the Folexin FAQs.
Hopefully, you'll find all the details you need right here so you can make an informed and independent choice.
Kindly tap on a question below to view the answer.
What is Folexin?
This is a supplement that's believed to help in the restoration of bald patches and thinning hairlines. It contains a blend of vitamins which have been scientifically proven to help rejuvenate dormant hair follicles. You can learn more about it here.
Does it really work?
We do not have a conclusive answer for this. Well, that's because about 90% of those who use it seem to like it. But then there's another 10% who don't like it.
We would say that it works for anyone experiencing a loss of hair due to:
The use of wrong hair products
Use of heat irons
Hormonal changes
Aging
Damage due to chlorine
And stress
Yup, you read that last point right, if you've been overly stressed of late, this might explain why you've been seeing more hair than usual in the shower drain or comb. Fortunately, all is not lost since this supplement gives you a good way out of your current situation.
How does it work?
From a scientific point of view, Folexin should work. It can help address the issues that lead to hair thinning through its all-natural approach. It also can improve the quality of your hair and nails.
The product brings together many different vitamins. Please note that it's a scientifically known fact that the lack of certain vitamins in the body can lead to balding. In this recent study appearing on PubMed, scientists found overwhelming evidence that hair loss can be improved with vitamin and mineral supplementation (1).
And that's precisely what Folexin does. It provides you with a host of B-vitamins among them Biotin, Folic Acid, Vitamin B12, Vitamin B1, Vitamin E, Vitamin A, Vitamin C. Above all, it comes fully loaded with Vitamin D3 and B5.
Herbs
And if you love herbs, inside this product is Saw Palmetto which according to Healthline has been observed to help tackle male and female hair loss (or Androgenetic alopecia).
You'll also find some Fo-Ti inside this supplement. This is a Chinese herb that's also known as He Shou Wu. It is known to prevent the graying of hair and boost the production of new hair follicles. Once again, Fo-Ti's benefits have been clearly documented by doctors and dermatologists from across the world (2).
Any side effects I should be worried of?
Much as this supplement is known to be highly safe, it might cause some side effects (in extremely rare cases such as when overdosed). For instance, if you take too much biotin, it might lead to false positives in lab tests for thyroid disease.
Other than that, Folexin is entirely made up of natural ingredients which are highly safe and have no side effects if you take them as per the recommended dosage.
Are there any before and after pictures?
Most people prefer to keep issues of hair loss private. It's rare for people to share photos of their bald spots and so the before and after photos of Folexin are hard to come by.
Fortunately, one of our staff members who used this product during our research was kind enough to share these photos with us. This was after 2 months of using the product daily.
You may order Folexin here >>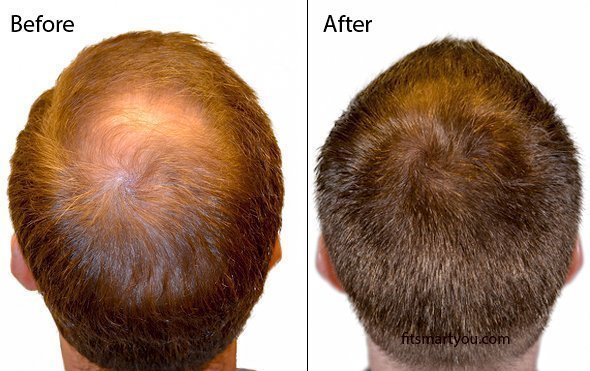 What's the recommended dosage of Folexin?
Ever wondered how many pills of this supplement you need to take per day? Well, the rules are simple and straight-to-the-point – take 2 pills of it everyday (1 in the morning and another 1 in the evening with water).
That said, you need to take it for roughly 10 weeks to completely regrow your hair. Of course, the results aren't typical.
Is Folexin ideal for women?
Yes, Folexin is ideal for both men and women. Its ingredients are all-natural and are meant to help you achieve a healthy hormonal balance.
That said, if you're strictly looking for a product that's specifically meant for women hair loss, you might want to try the good old Viviscal (see review) or the little-known Provillus (see review).
Can I take Folexin when I am on other medication?
It is still unclear whether the ingredients in this hair loss supplement can interfere with medications.
So far, there are no known cases of interactions between the herbal ingredients in this product and conventional medicines.
But even with that said, always consult your doctor before you combine Folexin with any prescription medicine.
Can I take Folexin when pregnant?
You might be tempted to take this hair regrowth supplement to prevent post-partum hair loss but we'd advise you against that without first seeking advice from your doctor. Likewise, this product isn't ideal for anyone below 18 years of age.
Not that it might be harmful to you but only that you need to be careful when taking dietary supplements in general no matter how safe they look. That's why we recommend that if in doubt, talk to your doc and let them help you on that.
How much Folexin is enough for me?
One bottle of it contains 60 capsules and that's equivalent to a 4-week supply. Yet in our analysis, the results from taking this supplement take up to 10 weeks to show (on average).
So, to be realistic you'll need more than one bottle of it if you're to see any major results.
Fortunately, Vitabalance provides a 10% discount if you buy two bottles at once. Click here for the best prices.
Plus you can head to our coupons page to learn how you can get an extra 5% off your next purchase.
Can I go on a diet while still using Folexin?
It's important that you eat a nutrient-rich diet so that Folexin provides the best results for you.
If you're on a diet that enables you to get at least 500 calories per day e.g. keto or intermittent fasting, there's no reason why you shouldn't take Folexin.
If anything, it's a multivitamin supplement meant to provide you with extra nutrients to support healthy living.
Is Folexin FDA-Approved?
The Food and Drug Administration (FDA) does not regulate dietary supplements and herbal products.
That said, this product is made in a GMP certified and FDA approved manufacturing facility.
So, you can be assured that its manufacturer has to abide by strict requirements to maintain those licenses.
Are there any documented clinical studies available on Folexin?
Each one of this product's ingredients has tons of clinical studies to back it up. For instance, Biotin has numerous clinical studies supporting the fact that it can help control biotin-deficiency-related hair loss symptoms. Some of those studies include (3, 4, 5).
Then there is Fo-Ti which also has dozens of clinical studies confirming its safety and efficacy. Some of those studies include 6 and 7.
We could go on and on but we think our point has been made. There's a lot of science to back the claims made by the manufacturers of this product so far although none of them are specific to the Folexin brand.
What's the cost of Folexin (any coupons)?
A bottle of this dietary supplement will set you back some $25. Of course, you can get it for a cheaper price if you order in bulk and make use of coupon codes.
Compared to its competitors: Nutrafol (see review) will cost you $79 per bottle while Viviscal (see review) goes for $50 per bottle.
Can I avail a Folexin free trial?
Unfortunately, there's no free trial offer available for this hair regrowth formula.
Fortunately, it's quite reasonably priced and you can 1 free bottle if you go for the 4 bottle's bulk order.
Plus there's a 30-day money-back guarantee period protecting you against manufacturing defects.
Can I use Folexin if I am in Canada, Australia or Europe, Asia or Africa?
The good news is that Folexin ships worldwide. Plus because it's a dietary supplement, there's nothing illegal about its consumption.
That said, the product might be detained by the custom's department in your country (not all countries, though) and you might be required to pay a tax for it.
So, it's important to be psychologically prepared for that although chances are that you'll not even have to deal with it.
What does the social media community think about Folexin?
The product seems to be more popular on Twitter than on Facebook or even Reddit. Also, the posts we came across on all those social media platforms are generally positive.
Of course, some of them have been posted by affiliate marketers.
On Amazon, this product has been attracting lots of 5-stars (see screenshots). And on Site Jabber, it currently boasts a 4.3-star rating. Here are the screenshots.
Note: You may click here for the best Folexin prices
Is Folexin a scam?
It's made in America, by a well-known manufacturer, and in an FDA-approved facility. Well, that doesn't seem or sound like a scam to us.
We have also closely examined its background and track-record and to this end, there are no red-flags raised about it.
What's more? The first time we came across this product was in 2012 when we were doing some research on multi-vitamins and hair loss. So, it's been around for at least 7 years!
All we know is that Folexin works although it doesn't work for everyone, there's always a small chance that it might disappoint you. But overall, it seems like a great product with a good track record.
How do I contact customer support?
Do you have any queries that you'd like handled by the product's customer support team? We're glad to note that we've interacted with this team severally and they've been quite professional and helpful all along. You can get in touch with them by clicking here and then tapping on the Contact Us button at the top right corner of the page.
Is it safe to order Folexin online?
Yes, the seller uses a strong and secure data encrypted connection on the official website and this ensures that all your orders are processed safely.
We have ordered from them several times in the recent past and have liked the experience. So it should be safe for you to order and buy it online.
How long does it take for my order to be shipped?
In general, Folexin orders are shipped during business hours. So, if you order on Saturday, chances are that your order would be shipped on Monday (that is if Monday isn't a public holiday).
Depending on where you live, the product may take anywhere between 3 and 5 business days to arrive (of course due to shipping and handling).
Also, we have seen rare cases in the past where Folexin runs out of stock. In such cases, the company normally puts a notice on the checkout page alerting you on the date when your order will be shipped to you before you even place the order.
Lastly, Vita Balance Inc. normally sends an email alerting you when your order is dispatched to you. That message typically contains details e.g. the estimated delivery time and what to do if the order doesn't reach you within the estimated period of time.
Folexin FAQs: Final Thoughts
We hope that you have found this detailed run-down of Folexin FAQs helpful.
Please note that you can always find more details on the product's official website.
You can also read this detailed write-up of the product that our experts compiled a few months ago.