Have you been losing too much hair of late? You are not alone.
A lot of women (and even men) across the globe suffer either from hair loss or thinning hair.
Others find that their hair tends to grow at a very slow rate and is always brittle or dry.
The good news is that by using the right products, you can enjoy beautiful and healthy hair.
Enter Hair La Vie, a popular line of products among women that claims to restore hair growth and repair damaged hair.
It's marketed as a badass in hair re-growth although so far it seems to be attracting mixed reviews.
Let's dig deeper into this conversation to see whether or not this is a formula worth giving a shot.
Product Facts
Product Name: Hair La Vie
Manufacturer: Same as product name
Country: USA (Los Angeles, California)
Website:www.hairlavie.com
Hair La Vie Review – What Is It?
In simple words, Hair La Vie is an umbrella term for a combination of products designed to support natural hair growth and reduce further loss of hair.
According to the manufacturer, all their products are 100% natural and chemical-free. Also, the products are free of parabens, sulfate, dyes, synthetic fillers and preservatives.
The product comes in 4 main variants:
Clinical Formula Hair Vitamins
Revitalizing Blend Hair Vitamins
Shampoo
Conditioner
Also note that there are many other hair products that the company provides. These include Moroccan oil, renewing growth treatment, leave-in, and serum. However, the 4 listed above are their flagship formulas.
The average blend of Hair La Vie costs north of 60 bucks which we think is insanely expensive given the fact that you can get similar results from a cheaper hair loss product.
Ingredients
Here, we're going to take a look at the ingredients of each of the products to understand how they work.
Clinical Formula Vitamins
Hair La Vie claims that this a 100% natural product that is made of scientifically researched ingredients.
It comprises a proprietary blend of 20 natural ingredients that are backed by clinical studies.
Some of its key ingredients include:
Biotin
Which is known for promoting healthy skin, hair, and nails. There are numerous health benefits attached to this specific ingredient as has been shown in different peer-reviewed studies (here, here, and also here).
Evnol Max
This is a trademark form of vitamin E and has been shown to support healthy hair growth in two clinical studies.
Saw Palmetto
This ingredient can help decrease DHT, a naturally-occurring hormone that contributes to hair loss by shrinking the follicles (study).
Reishi Mushroom
Known for its antimicrobial properties, this ancient remedy is clinically shown to stimulate healthy hair growth. It also protects the hair follicles against autoimmune damage.
Amla
This is an exceptionally potent berry that has been shown in clinical studies to promote healthy scalp and hair. It may also help reduce premature greying hair.
Flaxseed
This ingredient is very rich in omega-6 and 3 fatty acids which are essential for nourished and healthy hair follicles.
According to Hair La Vie, each of the ingredients of this product work to help you achieve great hair volume and shine.
Overall, this formula really looks great as it includes so many ingredients and herbal extracts known for their hair benefits.
Revitalizing Hair Blend Vitamins
Designed to infuse already damaged follicles with vitamins, natural antioxidants and minerals, this is yet another great Hair La Vie's product.
It is made of 20 natural ingredients and botanicals that are in proprietary blends.
Similar to the clinical formula, this too contains saw palmetto, bamboo leaf, and stem plus biotin. Other key ingredients include:
Collagen
Rich in protein, this ingredient may help promote elasticity within the skin, nails, and hair for a youthful appearance.
Borage oil
This oil boasts omega-6 fatty acid to help minimize inflammation in the hair follicles that usually leads to hair loss.
Organic Kelp
known for being a natural source of iodine, this compound helps regulate healthy follicle activity.
Horsetail herb
This herb is a rich source of silica, a mineral that has been shown to speed up hair growth.
What we didn't like about this specific formula is the fact that the ingredients are in proprietary blends.
Therefore, it is impossible to know the exact dosages in each ingredient.
Shampoo + Conditioner Set
This set is formulated to cleanse and revitalize your hair's look so it feels strong and beautiful from the outside.
The set is made from a combination of 21 natural ingredients including proteins, vitamins, 11 essential oils, and amino acids.
These include:
Marula oil – rich in essential fatty acids and vitamin C and E, this oil promotes moisturizing without clogging pores.
Coconut oil – this is a lightweight oil that is easily absorbed by the hair. It has been shown to promote smooth and clean scalp.
Peppermint oil – proven to support and fortify the hair follicle's ability to retain moisture from other ingredients.
Keratin – this is a moisturizer that comprises molecules that closely resemble the keratin present in the genetic makeup of hair. It makes hair look voluminous and feel softer.
How Does Hair La Vie Work?
As far as the Clinical formula is concerned, it works by reducing damaged hair follicles while also promoting thicker hair.
But how is it able to do all this? It contains hair-enhancing ingredients that are backed by science to promote healthy hair growth from inside.
The Revitalizing blend, on the other hand, works by infusing damaged follicles with nothing but natural minerals, antioxidants, and vitamins. And as a result, you get strong and healthy hair with incredible volume and shine.
What's more…
Both the clinical and revitalizing formulas contain saw palmetto, an ingredient that reduces DHT. And as you might know, DHT is a hormone responsible for causing hair loss and thinning hair.
Also, the two formulas include Bamboo leaf and stem as part of their ingredient list. This ingredient has been shown to prevent split ends and plays a major role in hair elasticity and luster.
How to Use It
The manufacturer recommends taking three pills per day as far as the Clinical formula is concerned. You should take preferably two in the morning and one at dinner.
When it comes to the Revitalizing blend, you can choose to take one capsule with breakfast and another one with dinner. Also, you can decide to take the two pills together.
As for the shampoo and conditioner, just apply them on wet hair then massage onto the hair tips up to the scalp. And for best results, let them sit for at least two minutes to ensure proper penetration and absorption.
Finally, make sure you rinse thoroughly.
Hair La Vie Reviews
The first few customer reviews we came across are those on Hair La Vie's official website. Big mistake!
Most of these reviews have an average rating of close to five stars. The sound a little like they were written by shills.
The vast majority of them are centered around impeccable results and ease of use. In fact, we didn't find even a single negative comment.
This made us conclude that the reviews could be fake.
Afterward, we did manage to find a couple of mixed reviews on a site known as HighYa.
But upon further investigations, we realized that it's an site that runs on affiliate commissions so they might have vested interests in this product.
So, we decided to check a couple of YouTube videos to see what different YouTubers have to say. This video of Gloria Ann unboxing Hair La Vie had some juicy details although it was done on day 1 of receiving the product.
The following are some Hair La Vie reviews posted by verified users on Amazon.
Alicia M. Says "Easy to swallow…I just didn't care for the after taste…" – 3 star rating
Briar Wolf Says "The product is easy to swallow and show (sic) some improvement just have been taking it 2 months. We will stay posted (sic) after 90 days." – 3 star rating
Sylvia McElduff Says "I normally have a strong stomach for vitamins. I only took 3 or 4 pills per day as recommended (twice daily). The first day, my stomach was so upset and I threw up." – 2 star rating.
Harvey Boy Says "I have had hair lose (sic) for about four years now and I have tried different treatments with no luck…having given this product a try, I noticed great results within 3 days (no more hair falling out). However, it's too early to tell if any (hair) is going to grow back." – 5 star rating.
As you can see, this product has attracted mixed reviews so far. The positive ones come from those who saw some improvement within the first few days of use. Likewise, the negative ratings come from those who disliked the product after taking their first few dosages.
We genuinely feel that these "early" reviews might be as a result of the company requesting for reviews from its customers (e.g. by sending an email requesting for reviews from buyers). These don't sound like organic reviews that you'd expect from people who are either excited or absolutely pissed off by a product.
Judging from their tones, we feel like they got an email or text from the supplier a few days after making a purchase. And so, naturally, they were "pushed" to give premature reviews even before completing the 90-day journey.
Organic reviews tend to have a week by week kind of assessment (e.g. I started at 5 inches in week 1, now it's week 7 and I am at 8 inches, here's the evidence). They also tend focus more on long-term gains…especially when we're talking about hair growth, good reviews would have some before and after pictures. That's, however, not the case here.
Fortunately, the products do come with a 90-day money-back guarantee. Therefore, if you don't see any noticeable results within 90 days of using the products, you can always get your money back.
Where to Buy, Pricing, & Shipping
It is advisable to buy your Hair La Vie products from Amazon since you can always count on Amazon's quality assurance to get value for your money. Also, you can get it from the official website which is hairlavie.com.
When it comes to pricing, this is probably the biggest drawback of Hair La Vie. All its four flagship products that we've reviewed are quite expensive for what they claim to deliver.
So, below is a breakdown of how much the formulas costs:
(1) Clinical Formula
A single bottle for one month supply- $59.95
3 bottles + free shipping- $52 per bottle
6 bottles + free shipping- $45.67 per bottle
(2) Revitalizing Blend
1 bottle enough for a month- $48.00 each
3 bottles + free shipping- $41.33 each
6 bottles + free shipping- $36.50 each
(3) Shampoo + Conditioner
A single set- $49.00
2 Sets for two months' supply- $43.50 per set
4 Sets + free shipping- $41.75 per set
Overall, the prices are pretty high for a monthly supply. Fortunately, if you buy in bulk, you do get a discount plus free shipping- but still, the price is quite high. Therefore, if it's your first purchase, we wouldn't recommend buying larger packages.
Head to Head Comparison with its Competitors
So, how does it compare with its competitors? Let's find out.
Hair La Vie Vs Viviscal
Both of these products claim to promote hair growth and thicker hair. However, Viviscal does not contain as many ingredients as Hair La Vie.
Therefore, Hair La Vie products are more likely to provide your hair with all the essential nutrients as compared to Viviscal.
When it comes to pricing, a bottle of Viviscal for women costs $49.99 and $50 for the men version.
However, a single bottle Hair La Vie Clinical formula which is almost equivalent to Viviscal goes for $59.95.
Therefore, Viviscal is a little bit cheaper.
Further, Viviscal has products for both men and women while La Vie's products are designed only for women.
Hair La Vie Vs Nutrafol
Compared to Hair La Vie, Nutrafol seems to take a holistic approach when it comes to restoring hair growth.
Additionally, it seems to have more ingredients that have been clinically proven to support healthy hair compared to Hair La Vie.
Unlike Hair La Vie that has products for women only, there is Nutrafol for men and women. Also, you can get Nutrafol for use before, during and after menopause.
When it comes to pricing, Nutrafol is more expensive than Hair La Vie. A bottle of Nutrafol costs $79 while that of Hair La Vie goes for $59.99. Not to mention, the dosage for Hair La Vie is only three pills and four pills for Nutrafol.
Folexin Vs Hair La Vie
Overall, Folexin has more ingredients compared to Hair La View. As such, we believe that it's likely to provide you with better results than Hair La Vie.
What's more? Folexin is way cheaper than Hair La Vie. Basically, a one month supply of Folexin goes for only $18 while that of Hair La Vie costs $59.99. And it's even cheaper if you buy Folexin in bulk as compared to Hair La Vie.
Additionally, Folexin is designed to work for both men and women. However, Hair La Vie products are designed to be used by only women.
Lastly, there are so many reviews about Folexin especially on independent sites like Amazon which is not the case with Hair La Vie. Therefore, the Folexin reviews seem authentic compared to those of Hair La Vie which are only available on their official website.
Pros
Most formulas contain high dosages of clinically backed ingredients
Backed by 90-days risk-free money-back guarantee
The pills are easy to swallow and are absorbed easily
Free shipping if you buy Hair La Vie products in bulk
Made of 100% natural ingredients
Safe for both chemically and color-treated hair
Does not contain preservatives, sulfate, synthetic fillers, or any harmful chemicals
Cons
Quite expensive
Takes about three months to see noticeable results
Shampoo makes the hair a bit dry for some people
Some of the formulas don't have strong ingredients
A good number of ingredients are in proprietary blends
The scent of the pills may be irritating to some people
Frequently Asked Questions
In this section, we will try to answer some of the most commonly asked questions about Hair La Vie Products.
Q: Is Hair La Vie color safe?
A: Yes, it is since it uses only natural ingredients and in safe dosages. What's more, it does not contain artificial coloring, fillers or harsh chemicals.
Q: Can I take Hair La Vie together with other drugs?
A: We recommend consulting a doctor first before doing so to avoid potential side effects.
Q: How long does it take to notice any effect?
A: Hair La Vie's products are not the kind that works in one or two months. You need to give the products at least three months to determine if they work for you or not.
Q: Can Hair La Vie cause breakouts?
A: Yes but only for some people because it contains biotin which is known to cause breakouts and severe acne.
Final Words
While Hair La Vie is a legit brand, their products are quite pricey, though (check price on Amazon). The good thing is that the formulas are backed by a 90-days money-back guarantee.
Although their products are good, we doubt the sincerity of this vendor. The reviews posted about them so far as too good to be true.
What's more? There are no peer-reviewed clinical trials conducted on these products.
Plus we also happen to know of cheaper hair-growth products that probably work way better than their formulas. One of them is Folexin.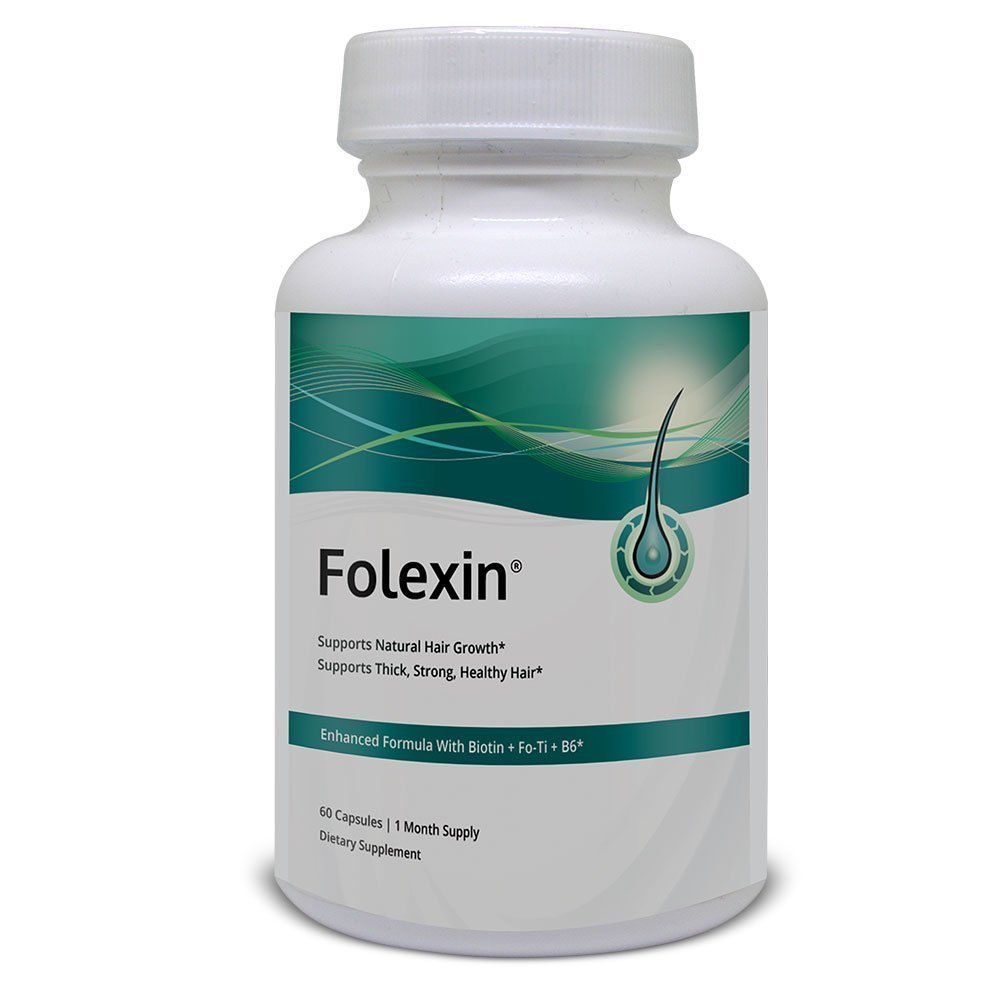 Editor's Note: This article was last updated on 17-October-2023.