Do you normally feel mentally drained throughout the day with no enough energy to accomplish various tasks at hand?
Well, with so much to do including work, laundry, and taking care of kids, it's normal to feel that way!
And while you can always take coffee or energy drinks to boost your energy levels, it's not the healthiest thing to do.
This is because coffee and other energy supplements only give you a temporary "pick-me-up" and leave you in a terrible crash moments later.
However, using a stimulant-free product like the Performance Lab Energy can really help as it takes a totally different approach.
Rather than causing a massive spike followed by a very rapid crash, it directly targets mitochondria, a natural energy producer. As such, it can provide you with a long-term solution to your energy problems.
But, what makes it better than coffee and other energy supplements? And does it really deliver on its claims? Let's find out all this and more in this review of Performance Lab Energy.
Quick Facts
Product: Performance Lab Energy
Manufacturer: Opti-Nutra
Country: UK & USA
Website: https://www.performancelab.com
Performance Lab Energy Review: What It Really Is
Simply put, it's a five-ingredient nootropic stack designed to support mitochondrial performance for enhanced cell energy and vitality. It is made by Opti Nutra Advanced Nutraceuticals, the same company behind Mind Lab Pro (see review) and Performance Lab Mind (see review).
Your may click here to order your bottle of Performance Lab Energy.
The supplement works by revitalizing both your mental and physical performance in a safe and natural way. But probably the best part about this stack is that it's stimulant-free.
Therefore, if you're looking to boost your energy levels while avoiding or limiting your caffeine intake, this stack is for you.
How Does Performance Lab Energy Work?
You see, the majority of the so-called "energy pills" use stimulants to rev up your nerve function. By doing so, they end up targeting the endocrine system thereby providing you with only a short-term energy burst.
As a result, you experience a rapid crash and exhaustion.
However, Performance Lab Energy works by targeting mitochondria, which is the core source of natural energy.
So, what exactly are mitochondria? These are organelles within the body cells designed to take in nutrients from the food we take. They then break the nutrient into ATP molecules whose job is to power all body functions.
Unfortunately, mitochondria tend to be damaged over time by free radicals causing them to reduce and malfunction. And with a mitochondrial decline, you may experience metabolic syndrome, fatigue, and other health issues.
So what Performance Lab Energy does is to restore, multiply, protect and optimize these organelles for efficient performance. It also supports the production of peak energy in almost all cells in the body.
Ingredients

Performance Lab Energy is made of only five potent ingredients that are 100% natural. All the ingredients are backed by clinical research to help support cellular energy. They include:
1.Pyrroloquinoline Quinone (PQQ), 10 mg
This ingredient acts as an antioxidant that protects the mitochondria from the damaging effects of free radicals. Also, it's believed to offer protection of mitochondria against oxidative stress.
Additionally, animal research has shown that this ingredient may help multiply mitochondria. More so, it appears to help stimulate mitochondria biogenesis, stabilize mitochondria membranes and optimize mitochondria so they work more efficiently.
2.R-Lipoic Acid, 150 mg
R-Lipoic acid is naturally found in mitochondria where it performs various functions. To begin with, it may help in activating the enzymes responsible for bioenergetics processes as well as carbohydrate metabolism.
However, in Performance Lab Energy, this ingredient assists with overall vitality. It does this by enhancing glucose uptake to ensure efficient cell performance.
Besides, R-Lipoic Acid acts as an antioxidant. As such, it may help counter oxidative stress as well as reverse age-related mitochondria decline.
3.Coenzyme Q10, 100 mg
Present in all body tissues and cells, this ingredient is known to have great energizing properties. Ideally, CoQ10 is believed to help convert the energy in foods into ATP energy which powers body functions.
What's more? It has been shown to protect mitochondria from the damaging free radicals while also triggering the formation of new mitochondria.
4.Acetyl-L-Carnitine (ALCAR), 750 mg
Categorized as an amino acid, ALCAR helps support cellular energy production. Also, it may assist with the transportation of fatty acids across the cell membranes into the mitochondria. As a result, ATP energy is produced.
Moreover, ALCAR allows transportation of toxins and excess waste materials that could interfere with the production of cell energy. More importantly, it may help protect mitochondria by minimizing the formation of damaging free radicals.
5.Black Pepper Extract (BioPerine), 2.5 mg

This formula is designed to supply your body with piperine, an active compound that enhances the absorption of other nutrients. This helps in improving the overall potency of Performance Lab Energy.
Clinical research has also shown that this ingredient may help improve CoQ10 levels by at least 30%. You can learn more about black pepper and its benefits in intestinal absorption in this 2011 study.
Any Potential Side Effects?
A majority of energy supplements are known to have side effects. This is because they contain caffeine and other cheap ingredients.
However, Performance Lab Energy is made from 100% natural ingredients and does contain harsh stimulants like caffeine.
Besides, it is soy-free, allergen-friendly, gluten-free, vegan-friendly and free from synthetic additives.
Therefore, it is safe for daily use and free of any side effects.
Nevertheless, if you exceed the recommended dosage, you may experience an upset stomach or a headache.
Recommended Dosage
The recommended dosage is one to two capsules per day. For maximum effects, you can take one to two capsules in the morning and another one to two in the afternoon.
Additionally, you need to take the stack daily and consistently to get the most out of it.
Where to Buy It & Pricing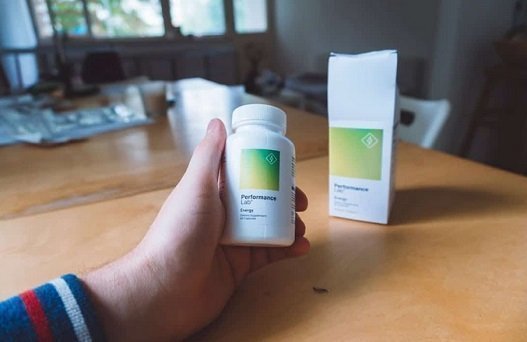 If you decide to try this dietary supplement, you can order it at the Performance Lab official website.
When it comes to pricing, a 30-day supply bottle containing 60 capsules goes for 50 bucks only.
However, if you buy two bottles at once, you get to pay $95 only for 120 capsules.
And if you purchase three bottles, they will cost you $135 which is relatively inexpensive.
Pros
Made from premium and potent ingredients that are backed by research
Does not contain any artificial fillers, preservatives, colors or additives
Provides full disclosure of ingredients and dosages
It's rich in antioxidants to protect your cells from free radicals
Purchase is backed by a risk-free money-back guarantee
Competitively priced
Cons
A little bit expensive than your typical energy drink
Can only be purchased at the manufacturer's official website
Conclusion
Compared to other energy supplements, Performance Lab Energy is clean, healthy, and stimulant-free. It does exactly what it promises to do and that is to energize you for healthy peak performance.
While it won't make you a superstar or the best athlete, it can help optimize your energy production. But for optimal performance, we suggest stacking it with Performance Lab Mind (learn more).
You may click here to order from the official website.