Hair loss is quite common among men and women of all ages. However, men are more likely to suffer from hair thinning than women. In fact, some men start going bald by the time they are 30 years old.
While there are many possible causes of thinning hair in men, the most common one is androgenetic alopecia. Also known as male pattern baldness, this condition affects about 50 million men in the United States.
Luckily, there are so many hair loss products for men. One such product that really caught our attention is Procerin.
It claims to be one of the leading hair loss solutions for men.
But does it really regrow new hairs or is it just another scam? Read our Procerin review (official website) which is based on our own research and opinion to know what this product is all about.
What Exactly is Procerin?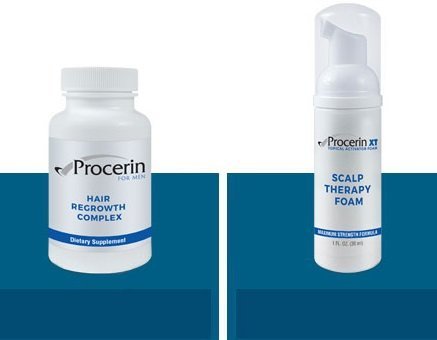 Simply put, it is a clinically proven formulation developed specifically for male pattern baldness. Available in tablet and topical foam, Procerin claims to help slow the hair loss process as well as promote new hair growth.
So, how is it able to achieve all this? Well, the formula is designed to fight hair thinning using a four approach method. This includes blocking Dihydrotestosterone (DHT), one of the major causes of hair loss in men.
Also, Procerin provides your scalp with the essential nutrients that stimulate hair growth. What's more, it revitalizes hair follicles while also maintaining a healthy scalp.
Besides that, it is made of all-natural ingredients that have been used successfully for many years to treat hair loss. Therefore, the formulation can be used by men of all ages and with all levels of hair loss. However, its benefits are greatest among younger men aged 18-35 years and older men with hair that is still in the growth stage.
How Does It Work?
Men suffering from hair loss tend to have high levels of DHT hormone in the scalp. So, what is DHT, you might be wondering? Well, it's a chemical by-product of testosterone. When testosterone is converted to DHT by 5 Alpha-Reductase (5AR) enzyme, men end up experiencing hair loss.
So, Procerin contains active ingredients that target the cause of male pattern baldness at the source. It does this by directly targeting both DHT and 5AR enzymes. Basically, this formula inhibits the production of the 5AR enzyme as well as the DHT hormone. Also, it works by blocking the Androgen receptors responsible for causing hair loss
More so, Procerin prevents DHT from attaching to the hair follicle. And over time, hair loss starts reducing while the hairs become longer and thicker.
While Procerin Tablets are designed to fight DHT internally, Procerin Foam does so externally for more effective results.
Ingredients List
Now that you have got an idea of how the Procerin system works, we're going to take a look at its ingredients. Both the topical and oral formula comprises a proprietary blend of mineral, herbal, and vitamin compounds.
Procerin Topical Foam, for instance, includes ingredients like castor oil, avocado oil, saw palmetto extract, and peppermint oil. Other ingredients are water, zinc sulfate, grape seed extract, Niacin, and evening primrose oil.
However, Procerin tablets formula contains a total of 17 clinically proven ingredients. Here is a look at some of its key ingredients.
*Saw Palmetto Berries
Nearly every hair loss solution contains this ingredient as it is believed to stimulate hair growth. The berries of saw palmetto may help block 5AR enzyme which is responsible for converting testosterone into DHT. However, research on whether this ingredient works to treat hair thinning is limited but promising.
*Pumpkin Seed
The oil from pumpkin seed has been shown to affect both androgen and testosterone levels in the body. They contain a very unique amino acid that may help with hair growth.
*Muira Puma Root
This ingredient may help balance hormones, increase virility, relieve stress and improve overall health. It also increases blood circulation in the scalp and this may promote hair growth.
*Eleuthero Root
There is anecdotal evidence showing that the roots of Eleuthero plant can be used to treat hair loss. Also, the roots may help reduce stress hormones which have been shown to contribute to hair thinning.
*Gotu Kola
As far as this ingredient is concerned, it has been shown to restore hair growth and thicken the epidermis. In a study conducted in 2011, participants who used Gotu Kola experienced improved hair density and length.
Other ingredients include zinc sulfate, vitamin B-6, magnesium, calcium, Uva Ursi, and nettles. See the supplement's facts sheet below.

How You Should Use Procerin
The recommended dosage for Procerin Tablets is three capsules per day. However, you should not take them altogether.
You need to take one pill preferably in the morning with water and the other two at night. You can take the pills on an empty stomach. But if you experience any stomach discomfort then it's advisable to take them with food.
As far as Procerin Topical Foam is concerned, you should apply two pumps twice a day on the affected areas. Then massage it and leave it to dry for around one minute. You really don't need to rinse out the foam because it does not leave hair greasy.
Any Potential Side Effects?
Overall, Procerin seems to be safe since it is made from all-natural ingredients. Besides, it is free of most of the side effects common among other hair loss supplements and medications.
However, some men report mild stomach discomfort during the first days of using the formula. Luckily, if you take Procerin with food, then the discomfort will eventually subside. Also, the topical foam solution may lead to skin irritation among men with sensitive skin. In this case, it's advisable to use the formula once a day to avoid the irritation.
How Long Does the Formula Take to Work?
Click here for the best prices >>
Results may vary from one person to another. Some users do report noticeable results in only two weeks. However, most men take around one to three months before they can notice significant hair growth. Therefore, it is advisable to use Procerin for at least one to two months before you can expect results. This is because hair grows very slowly.
But if you want more effective results and very quickly, we recommend using both Procerin Tablets and Topical Foam together.
What Are Other People Saying?
As with most products out there, Procerin seems to be getting mixed reviews on different sites. Some report that it's a good product and has helped them grow their hair back. Others say they have been using it for many years and it has kept them from losing hair very fast.
On the other hand, some users claim that they did not notice any improvement after using the formula for three months. Others even called it a big scam. Also, some users reported that the product was only effective for the first two months.
So, based on the reviews, Procerin might not work for everyone which is quite normal as with any product. But it really does work for most people whose hair loss is due to elevated levels of DHT.
Where to Buy, Pricing & Shipping
You can buy Procerin from their official website and also on online retailers like both Amazon and eBay. However, ordering directly from the manufacturer offers many advantages. For instance, you get a 90 money-back guarantee as well as special discounts if you buy in bulk. Unfortunately, other online retailers don't provide a money-back guarantee.
As far as pricing is concerned, a month supply of Procerin Tablets goes for $26.95 and $36.95 for the Tropical Foam. But if you buy both products, then you will only pay $49.99.This means you get a discount of almost $14.
But there's more. If you buy in bulk, you get even bigger discounts. For instance, a three month supply of Procerin Tablets will cost you $69.95 only and $89.95 for the Tropical Foam. So, you get a discount of $10.9 and $20.9 respectively. And if you choose the six months' supply, you can be sure of even better discounts.
More importantly, Procerin can be shipped internationally to most countries. All orders are usually shipped immediately. So for U.S. and Mexico orders, it takes three to five business days for your Procerin to arrive.
However, for international and mail orders, you can expect the package to arrive within 12 to 14 business days.
Pros
Safe to take together with other hair loss supplements or medications
Backed by a 90-day hassle-free money-back guarantee
Free of any major side effects
Formulated from all-natural DHT blockers
Includes easy to take capsules
Free of any artificial preservatives, binders, and fillers
Clinically proven to fight hair loss and revitalize hair growth
Does not have any sexual side-effects like with some prescriptions
Cons
Does not work for men whose hair loss is due to any non-DHT related causes
It's designed for use by men so women cannot benefit from it
Has some mild side effects
Frequently Asked Questions
In this section, we will try to answer some of the top questions you might have about Procerin.
Q: Does Procerin really work for receding hairline.
A: Yes it does as long as the receding hairline is caused by elevated levels of DHT.
Q: How long does it take to start noticing results?
A: Results vary from one individual to another. Therefore, the manufacturer recommends you give it one to three months before you can expect any results.
Q: Will my new hair fall out if I stop taking Procerin?
A: Some men report no hair loss after discontinuing the use of the formula. However, most men have reported that their hair loss returned slowly.
Final Word
Whether you want to slow your hair loss process or simply regrow new hair, Procerin (official website) seems to be a great product worth considering. Besides, it's all-natural, free of major negative effects and affordable.
Not to mention, it is backed by a three-month money-back guarantee making it risk-free.
What's more, the company behind it has an A+ rating on BBB so we think they're worth trusting.