When looking for a hair growth supplement, two of the biggest names likely to pop up are those of Viviscal and Nutrafol. Both products heavily rely on self-sponsored clinical trials to support claims that they can support hair growth in men and women.
However, questions remain as to how effective these over-the-counter dietary supplement are. And if effective which one of them is better at regrowing hair?
Well, deciding between these two hair loss vitamins can be difficult since they share a lot of similarities. Fortunately, our sleuths have, once again, outdone themselves by digging deeper and bringing you the finer details that characterize the Viviscal vs. Nutrafol battle. Keep reading.
Nutrafol Compared to Viviscal – An Overview
If Viviscal vs Nutrafol was a sports match we'd give the final score as 3-2. 3 in favor of Viviscal and 2 in favor of Nutrafol. Viviscal scores slightly better than its rival in the following spheres:
Affordability
Ease of swallowing
Lower risk of side effects
Nutrafol, on the other hand, seems to have an upper hand in product variety and customer support.
All in all, none of these products ticks all the right boxes in our view.
Honestly, we think that our #1 Recommendation (take a look) that goes for $18 has a clear advantage over these two cool kids. 🙂 We've been tracking this since 2013.
What Is Viviscal? – Overview
Simply put, it's a hair supplement that is widely claimed to promote hair growth from within. And according to the manufacturer, the Viviscal formula is one of the most researched hair growth supplements. The formula comprises different products to choose from, including:
Diet pills
Shampoo
Conditioner
Elixir
This variety enables you to use the product that is most convenient for you. You can also combine all the products for better and faster results (in some cases).
However, while the pills and shampoo are recommended for both men and women, the elixir and conditioner, on the other hand, are only for women.
What Is Nutrafol? – Overview
Nutrafol, on the other hand, is a hair growth supplement that comprises three different products packed with healthy ingredients. The formula includes:
Nutrafol Women
Women's Balance
Nutrafol Men
The Nutrafol Women's Balance is designed to promote hair growth with visibly more thickness in women already in menopause.
Similar to Viviscal, this supplement is also backed by clinical research. Also, it's made with clinically tested and medical-grade botanicals in standardized dosages for superior performance. More so, the formula is recommended by doctors and dermatologists.
How Do Viviscal and Nutrafol Compare?
Both Viviscal and Nutrafol are excellent products for regrowing hair. For this reason, it can be hard to know which is the best for your needs.
The good news? Knowing how the two supplements compare to each can help you decide which one is the best option. So, let's find out how they compare in terms of ingredients, how they work, dosage, reviews, side effects, and pricing.
Ingredients
If we look at the ingredients of both products, Viviscal appears to have fewer ingredients as compared to Nutrafol. As such, it is easy to determine the efficacy of each ingredient in Viviscal.
Viviscal is primarily made up of herbal extracts, minerals, and vitamins that have been scientifically proven to promote existing hair growth.
However, its key ingredient is the exclusive AminoMar marine complex, which claims to nourish hair from within. This ingredient is a combination of shark powder and mollusk from the shark cartilage.
According to clinical trials, it may help improve hair growth but more research is needed to ascertain its long-term effects.
When it comes to Nutrafol's ingredients, it comprises a proprietary blend of concentrated botanicals along with a blend of vitamins and minerals.
However, the men's formula contains Saw Palmetto as the key ingredient which has been clinically shown to reduce DHT. The women's formula, on the other hand, contains Marine Collagen (an essential building block of strong hair) as the key ingredient.
Overall, while Nutrafol seems to have a better ingredient list, most of these compounds are listed in proprietary blends. This means that it's impossible to tell the exact dosage per serving for each ingredient.
How Do They work?
Viviscal dietary supplements are designed to work by nourishing thinning hair from within, which helps promote existing hair growth. Basically, the formula nourishes hair follicles in four stages, including:
1: From within
2: Strengthens and promotes the growth of already existing hair
3: Supports growth of hair that has slowed growing
4: Noticeably healthier, stronger, and more vibrant hair
More so, Viviscal supplements work by providing your hair follicles with the vital nutrients they need to prolong the anagen hair growth cycle.
Nutrafol, on the other hand, works by targeting multiple pressure points at once. According to the manufacturer, the supplement contains ingredients that target the root causes of thinning hair.
For instance, it contains Ashwagandha that helps balance elevated cortisol for reduced stress levels. Also, included is Saw Palmetto and Maca for balancing hormones like DHT.
More importantly, the formula is made up of essential vitamins and minerals that offer nutrition for healthy hair.
Dosage – How To Take
Compared to Nutrafol, it's much easier to take Viviscal pills. This is because the tablets are small and have a round shape for ease of swallowing. Plus, you only need to take two tablets per day with lots of water, and you're done.
As far as Nutrafol is concerned, the supplements come in capsules. These capsules are covered in transparent gelatin and are relatively easy to swallow.
However, the real drawback of Nutrafol is that you have to take four pills per day. Yeah, you read that right! So, compared to Viviscal, it can be really uncomfortable to take Nutrafol's capsules.
As if that's not enough, you need to take the Nutrafol capsules with meals for better absorption since they are fat-soluble.
Results – How Long Do They Take to Work?
Everyone is different and growing hair takes time. For instance, with Viviscal, you need to take the pills for at least 6 months before you start noticing any major results. However, some people may notice a significant change within the first three months.
The best part? If you use the different Viviscal products together, you may experience better and faster long-lasting results.
Similar to Viviscal, you need to take Nutrafol capsules daily for 6 months. But of course, consistency is key if you want to experience the best results.
More so, according to different customer reviews, you may notice healthy hair growth within the first 3 months of using Nutrafol pills. However, results may vary like it is with most products.
Any Side Effects?
Both supplements are reported to be safe since they are made from mostly minerals, vitamins, and plants. Besides, they are 100% drug-free.
However, in rare cases, Viviscal dietary pills may cause nausea, stomach upsets, and vomiting. Also, some customers have complained of the tablets leaving a bitter taste in your mouth, which can be uncomfortable.
When it comes to Nutrafol, the capsules are made without gluten, artificial additives, dairy, shellfish, and binders. But despite the product being all-natural, it does come with some side effects too.
For instance, some people may experience mild stomach pains and cramping after starting a Nutrafol dosage. This is probably because of the many pills one has to take per day.
That said, there are not any severe side effects associated with the two supplements. However, taking more than the recommended dosage can be harmful to your health.
Clinical Trials
One thing that stands out about these two products is that they have undergone extensive clinical trials. However, Viviscal appears to be backed by more clinical studies.
According to their official website, three trials have been conducted on Viviscal to prove its efficacy. The good news? All three studies had positive results. For example, one of the trials done in 2013 showed an 18.3% reduction in hair shedding.
As far as Nutrafol is concerned, we only came across one randomized study that was conducted among women with thinning hair. According to this study, Nutrafol users showed a 10.3% increase in terminal hairs.
Customer Reviews
Overall, these two supplements have received mixed reviews. Viviscal, for instance, has a rating of 4.4 out of 4,015 reviews on Amazon, which is excellent.
Nutrafol for women, which is their most popular product, on the other hand, boasts a rating of 4.2 out of 2, 164 reviews.
And compared to Nutrafol, Viviscal has received more positive reviews. Most people say it works pretty well in regrowing thick hair. However, there are a few complaints that it doesn't work.
With Nutrafol, some people praise it for growing their thinning hair. However, some reported that it doesn't work and it is very expensive.
Pricing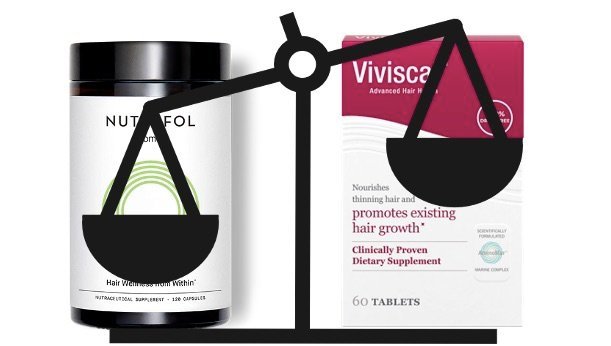 When it comes to pricing, Viviscal is clearly the winner as it costs almost half as Nutrafol. For instance, a one-month supply of Viviscal hair growth supplements will cost you only $44.99 on the official website.
However, on Amazon, the same product goes for only $33.98, which is way cheaper. The best part is that the more bottles you buy, the bigger the discount you get.
If you decide to buy Nutrafol from the official website, a one-month supply will cost you $79. It doesn't matter whether you choose the women's or men's formula because the price is the same.
And if you order via Amazon, you can expect to pay $88.00 for a bottle that will last you just a month. So, overall, there is no doubt that Nutrafol dietary supplements are very expensive.
Final Verdict on Viviscal vs Nutrafol – Which Is Better?
Overall, Viviscal seems to be a better choice if you would like to grow thicker and fuller hair. We love that its efficacy is backed by clinical trials (though self-sponsored). What's more? Their products are reasonably priced and have received many positive reviews from satisfied customers.
Nutrafol is also an equally good product if you don't mind the hefty price tag and the many pills you've to take per day. After all, according to different user reviews, it does work, although results may vary.
Get Viviscal from Amazon.com or Official Website
Get Nutrafol from Amazon.com or Official Website
Editor's Note
This article was updated on 8/8/2022 to enhance readability and fix grammatical errors.