Turmeric is a spice that has been used in Asian food for centuries. However, turmeric contains curcumin as its active ingredient which has many health benefits including anti-inflammatory and antioxidant effects.
Unfortunately, it would be very difficult to experience the full benefits of turmeric by just using it as a spice in your foods. Luckily, there are so many supplements on the market that can help you achieve an effective dose of turmeric.
But with a lot of choices to choose from, it can be hard to know which turmeric supplements are the best. So, below we've got a compiled a list of the top six best turmeric supplements. Check them out!
Top 5 Turmeric Supplements: Our Rankings
All the products that made it to this list did so purely based on merit. So, enjoy reading the comparisons and hopefully you'll be able to make an informed choice at the end.
---
1. Turmeric Curcumin Plus
If you're a purity fanatic, this turmeric supplement by VitaBalance is worth considering. Why so? Because it's quite competitively priced and contains a healthy supply of potent curcumin.
What's more, the supplement contains 1200 mg of pure organic turmeric which makes it so high in potency.
Made in the USA in an FDA-registered facility, Turmeric Curcumin Plus boasts a clean list of ingredients. This comprises, pure organic turmeric which is rich in curcumin.
That's alongside Bioperine which is meant to improve absorption and 100mg of Curcuminoids meant to add onto the product's potency.
Pros
Supports joint and muscle health
Made in a facility that follows GMP guidelines
Aids in weight management and healthy cognitive function
No prescription needed to purchase it
Available in easy to swallow capsules
Manufactured by a company with BBB A+ rating
Cons
Only ships internationally to a limited number of countries

---
2. Vitabreeze Turmeric Curcumin Complex
Here is yet another powerful turmeric formula that is made from a blend of natural ingredients. Vitabreeze Turmeric is designed to help enhance and support the body's internal systems as well naturally maintain good health.
Basically, each capsule of Vitabreeze turmeric contains 750mg of high-quality turmeric curcumin. The formula also includes research-verified curcumin standardized to 95% curcuminoids and black pepper extract to help optimize results.
More importantly, this turmeric supplement contains no fillers, stearates, GMOs, binders, preservatives or any artificial ingredients. Therefore, it would be fair to say that it's safe.
Pros
Small gelatin-free capsules for ease of swallowing
Each bottle has 180 capsules for up to six months' supply
Free of wheat, milk, soy, peanuts, corn, and eggs
Boasts superior absorption thanks to the black pepper extract
Made in an FDA registered and GMP certified facility
Cons
Contains very little curcumin in a proprietary blend
Has a strong odor

---
3. Doctor's Best Curcumin
Whether you are looking to improve the health of your joints, brain, or heart, this turmeric formula may help you. The supplement is formulated with 1000mg of Curcumin C3 complex which includes turmeric extract, standardized to contain 95% of curcuminoids.
Additionally, Doctor's Best Curcumin contains 6mg of black pepper extract to help maximize the absorption of curcumin. What's more? This supplement is non-GMO, soy-free, and gluten-free thereby making it safe for anyone to consume.
Pros
May help neutralize free radicals
Boasts a potent standardized turmeric extract
Competitively priced
Great customer service
Includes clinically-studied curcumin c3 complex
Cons
Some people reported stomach issues after using it
May give you heartburn when taken on an empty stomach

---
4. LongVida Optimized Curcumin 500 mg Supplement
Looking for a high-absorption turmeric supplement? You might want to consider this formula from LongVida that delivers free form curcumin into the bloodstream.
Manufactured in a GMP accredited facility, LongVida claims that the supplement is of very high-quality. Basically, the formula contains 500 mg of optimized curcumin extract from turmeric root per serving.
And to ensure optimized bioavailability, the capsules boasts a unique fatty acid and phospholipid coating. Besides that, it does not contain any artificial colors, preservatives or flavors to ensure safety and purity.
Pros
Delivers high levels of 'free' curcumin
Ideal for vegans, vegetarians, kosher, and halal diets
Has up to 285x greater bioavailability
Free from soy protein, gluten, dairy, wheat, lactose, and yeast
Boats up to 7x longer-lasting action compared to standard curcumin
Cons
May not work for everyone
Capsules are reported to have a weird taste and smell

---
5. Jarrow Formulas Curcumin 95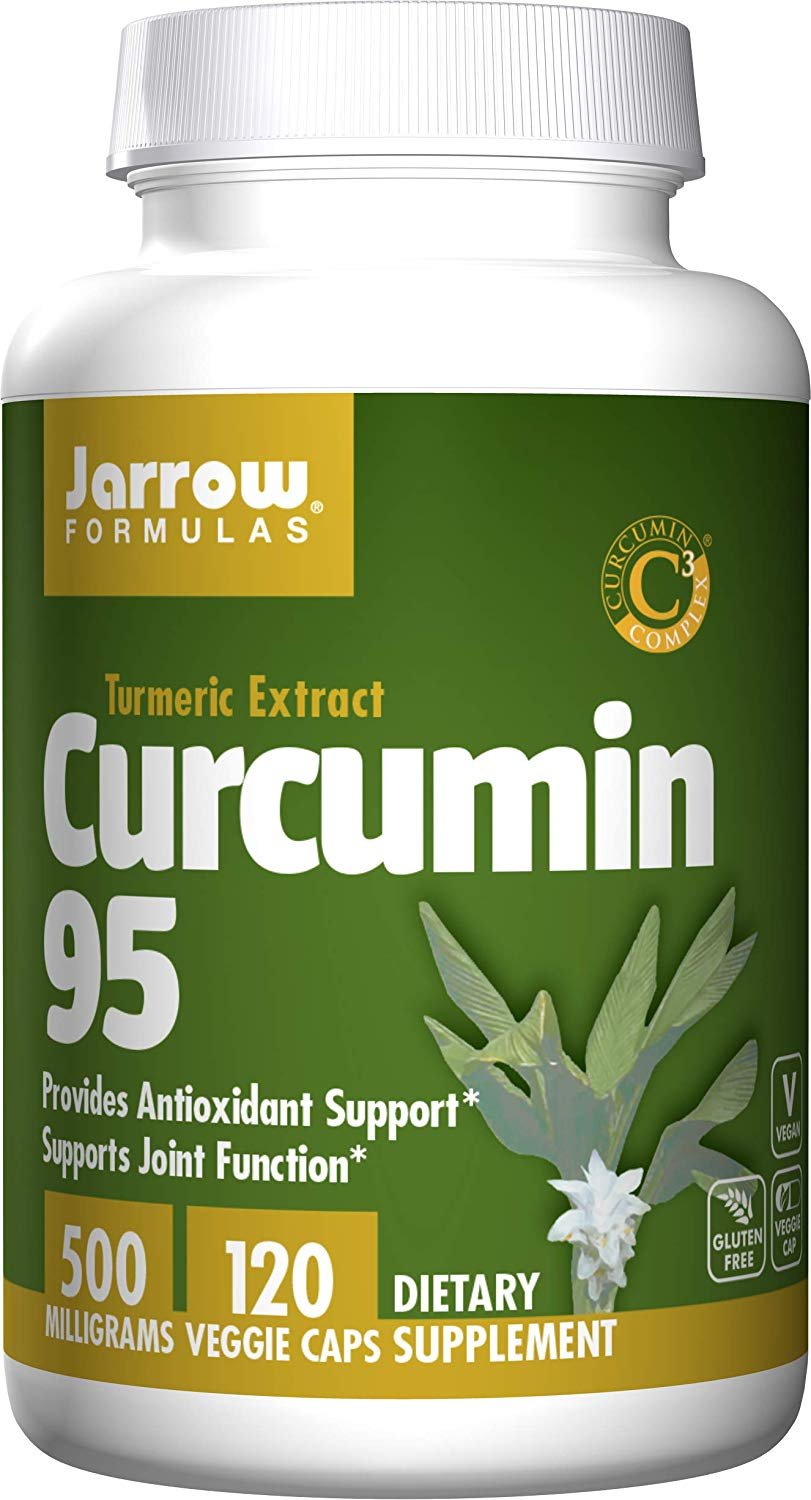 With this curcumin formula, you get 120 veggie capsules that are gluten-free and at a relatively cheap price. The supplement is made of premium ingredients including 500 mg of turmeric extract in the form of curcumin C3 complex.
Also, it contains 95% curcuminoids which are scientifically proven to have great antioxidant properties. As such, the formula may help protect the cells from oxidative damage. Other ingredients included are silicon dioxide, cellulose, and magnesium stearate.
PS: Please note that magnesium sterate which some experts have flagged as potentially harmful. However, it's still categorized as GRAS (Generally Regarded as Safe) by the FDA.
Pros
Offers great value and quality
Provides antioxidant protection
Medium-sized capsules that are easy to swallow
Free of GMO
Helps control joint pain and inflammation
Cons
Does not contain Bioperine for optimal absorption
Powder in the capsules may stain clothing

---
6. Optimal Body Defense Curcumin 2000
Last but not least, we've got this formula that is made with organic turmeric to help promote a healthy immune system.
Its main ingredients include turmeric root (Curcuma longa), turmeric root extracts standardized to 95% curcuminoids, and black pepper extract standardized to 95% piperine. Unfortunately, the ingredients are in proprietary blends so we don't know the exact quantity of each ingredient used.
But here is the best part, Curcumin 2000 is free of gluten, preservatives or artificial colors. Besides that, it is manufactured in a GMP facility to ensure it's of superior quality.
Pros
Third-party tested for safety, quality, and effectiveness
Contains pure and potent piperine extract for maximum absorption
Backed by a 90-day money-back guarantee
Made in the U.S.A in an FDA compliance facility
Claims to be 2000% more powerful than other turmeric supplements
Supports healthy joints and muscles
Cons
All ingredients are in proprietary blends

---
Final Verdict
There are so many reasons to add turmeric to your diet that go beyond just the primary health benefits it has to offer. With fewer side-effects, turmeric is a great natural way to improve your overall health.
Besides, you really don't need a doctors' prescription to purchase it. It's no wonder turmeric supplements are gaining a lot of popularity even on sites like Reddit.
However, you don't want to spend your hard-earned money on a formula only to have it not work. So, while all the above organic supplements are equally good, the Turmeric Curcumin Plus is our overall best absorbed curcumin package.
Not just because it contains extremely potent levels of turmeric but also because it has BioPerine for maximum absorption.
Curcumin 2000 by Optimal Body Defense isn't too bad either. Would you agree? You may share your comment with us via the comment box below.
Editors Note: This article was last updated on 11-July-2021.